Our Moving Plans
At the time of this writing, there is nothing positive to report about finding a new place to run trains. So, here's our contingency plan.
We will have our open house on Saturday, April 7, as scheduled. Don and Lois have done a great job getting the word out about this open house. Flyers are in the local hobby shops and Lois has contacted the local papers, including The Gazette, which may mention that we are looking for a new home. Lois even got a notice place in the Tri-Lakes' The Tribune, which hasn't mentioned our open houses for several years! It never hurts to advertise. I want to thank Lois and Don for their efforts in ensuring a successful open house.
If you haven't signed up to help with this one-day open house, do so as soon as you can.
Following the April 7 open house, module owners will move their modules out of the clubroom as soon as possible. If we can clear out enough space quick enough, we can set up the Morgan traveling layout. This will allow us to run trains on it for the next two weeks and make improvements on it at the same time.
The club moving date is Saturday, April 21. We will move all club property out of the club, with the possible exception of the Morgan Layout. This will be an "all hands effort." We'll need everybody and every vehicle to (1) pack everything, (2) move all of the club's property to a storage room, (3) tear down the shelves, and (4) clean up the room. If everyone helps, we can do the job in one day. Otherwise, we'll have to finish the job on Sunday, April 22.
We want to leave the clubroom in pristine condition for a couple of reasons. One, it is the right thing to do. We have always left a facility in better shape than we found it. Two, we have a $300 damage deposit placed with the landlord. We want that money back.
On Friday, Saturday, and Sunday, April 27, 28, 29, we take the Morgan layout to the Second Annual Rocky Mountain N Scale Meet at Lakeside Mall, the same place as last year. Because of this event, it would probably be best to leave the Morgan Layout at the club after the April 21 moving day. That's up to Joe to decide. He is the Dispatcher for both the move and our N Scale Meet visit.
All of the club's property will be stored in one place except for the Morgan Layout. Don Heath has graciously offered his spare garage to store the layout. There is enough space there to allow us to continue to improve on it. Otherwise, all of the club's property will be in one location. That location has yet to be determined as of this writing.
If anyone has any questions, suggestions, or comments about our activities in April, please let me know. It's going to be a busy month.
Welcome to the first edition of the Railhead under this new editor. I hope you find reading this newsletter both enjoyable and informative. I would sincerely welcome any comments or suggestions you might have. For those of you who receive the Railhead via e-mail, I hope you enjoy its new colorful format. In an effort to make this newsletter readable to anyone who has e-mail as well as take advantage of some of the features of the latest Internet technology, I have chosen to send the e-mail copies in HTML format. In order to read the newsletter, in electronic format, you just need an Internet browser. Just about every PC now comes with either the Netscape Navigator or the MS Explorer Internet browsers. The latest versions of these browsers can also be downloaded for free from the Microsoft or the Netscape web sites.
This month we cover the latest developments as the club tries to find a new home as it faces a significant increase in rent. Also, take a ride on the trains of Amtrak's northeast corridor from Boston's South station to Penn Station in New York. Also included, this month, are the regular features you have come to know. Included is a message from our Superintendent, minutes from the board and business meetings of the previous month and updates on the latest club activities.
As I take over as the club's newsletter editor, I want to emphasize that this is YOUR newsletter. I would welcome any articles or information about the club or about railroading in general. If you ever had the itch to get published and see your efforts in print, send me something! Go ahead, I'm easy!
As many of you know, my job requires a lot of travel. With my laptop in tow, I can put the Railhead together anywhere. As an avid railroader, I will try and share the various railroading experiences I encounter on my travels. This also means that I will need your help. As I will be unable to attend all of the club's activities, I would like to request each dispatcher of an activity to send me a short article about the activity. About one half to three quarters of a page would be perfect.
Finally, I would like to take this opportunity to thank Charley Bay for all his efforts as our previous Railhead editor. As your new editor, I will always strive to equal his talent in producing a fine club newsletter.
Well, after GATS and our March 24 appearance at Chapel Hills Shopping Center, it is clear that our Morgan Traveling Layout is functional and more than ready for scenery improvements.
To repeat past discussions, we are looking for scenes that have all of the following characteristics: (1) model something that isn't done often, (2) something that the average viewer will easily identify, and (3) something that has either lights, action, sound, or a combination thereof. In short, we are seeking a prize-winning layout that is superbly done.
We have a diagram of the layout modules on the board at the club. The diagram reflects our latest thinking as to what we want from the layout, module by module. In past weeks, we have added and deleted ideas. Now, it is time to decide exactly on what we want. Further, it is time for members to take ownership of those ideas and build them. Joe is installing the Gary Coleman city. When he's done, he's done. The rest of the scenery is up to the rest of us.
This is another decision for our April 20 business meeting.
If the club goes into storage for a while, we will face the problem of being unable to run trains. For those of us without a home layout, this would be a catastrophe! We can't have that. After all, the local hobby shops would be forced out of business. And, we wouldn't be able to show off our latest purchases or modeling projects. Horrors!
So, there are two things we can do. The first is to take one version or the other of our traveling layouts out more often than we have planned so far this year and show off our modeling skills to the public.
The second is to ask club members who have home layouts to host the club for an evening of running trains once a month or so. We already have two suckers (er, volunteers). One is Lois. She has a nice, fairly large layout in her basement and has consented to make it available to the club. The other is my layout, which fills an 11'x13'room, and sports an 103' long single mainline with passing sidings.
Do we have other members who would be willing to help keep our trains running? The layouts don't have to be big. They just have to exist so that we have a friendly place to visit. It would be fun to be able to see what others are doing and steal some good ideas. Also, maybe some members would be available to help build and/or improve a member's home layout from time to time.
We'll talk about this at our April 20 business meeting at the club and set up a schedule if you feel that this is a worthwhile idea.
Those PPNG members who attended the March 16 business meeting may recall that I reported that we had been contacted by a gentleman who was offering Digital Command Control (DCC) switches to us free in return for our endorsement of his products. This, of course, requires that we convert at least one line of our permanent layout to DCC.
Since it is likely that our upcoming move will be to a storage place, converting our permanent layout to DCC is out of the question at the present time. However, some members have mentioned converting one of the four lines on our Morgan Layout to DCC to take advantage of this opportunity.
If we decide to do this, we would be required to (1) determine what DCC manufacturer offers the product most suitable for our operations, (2) add some spurs and/or passing sidings to the Morgan Layout, and (3) spend $200 - $300 of club money to get Digital Command Control installed. Some members would also have to spend about $20 per engine to install a microchip in each engine, which will run on the DCC line.
Each of these three requirements calls for some serious discussions and decisions.
The gentleman making his offer to us has made it clear that his offer is to the first club who takes him up on it. He will be at the Second Annual Rocky Mountain N Scale Meet at Lakeside Mall, April 28 and 29. We can meet with him then and ask questions, if we want to seriously pursue a future relationship.
Please consider this matter. We'll be talking about it further at the April 20 business meeting.
We met at the club at 7:00, loaded up and headed for the mall. We got there at about 7:30 and started setting up. We were finished at 10:00. Except for a few miner problems like not being able to hook up the power supply, the setup went smoothly. We thought we left some things at the club and turned out we had them the whole time. We finally had trains running by 11:00. The rest of the day went pretty good.

We had a fair crowd; we weren't able to set up in the area we wanted to because of an art show. But we were able to get close. I think with a few more set ups we can get the set up time down to an hour and a half. We still have a few trouble spots but they should soon disappear.

I'd also like to thank everyone who helped on Saturday. I know it was getting a little intense during the set-up and tear down. I appreciate the patience everyone has had with me.
It was a sunny yet blustery Saturday as New England dries out from a couple of days of torrential rain preceded by a heavy snowstorm. Today we will ride the trains of Amtrak's Northeast Direct and Acela Regional. I was hoping for glimpse of Amtrak's new high-speed train sets, which were put in service last October, but not this time. The Acela Express is where you will find their newest high-speed trains.
Acela Express is Amtrak's latest answer to high-speed rail service in the northeast corridor. These trains are designed to travel up to 150 MPH and will make the 231-mile run between New York's Penn Station and Boston's South station in just under 3-1/2 hours. This is compared to the 4 hour and 50 minute ride on Amtrak's regular Northeast Direct trains.
With Acela, Amtrak tries to take on the airlines by touting their train as an easier and less stressful alternative. They present a good argument in their favor. Consider the Twenty-minute taxi or subway ride from downtown Boston to Logan airport. Once at the Airport, it will usually take at least 45 minutes to an hour to be on the plane and pushing back from the gate. You can then figure on an hour flight to New York. It is a 30-minute taxi ride from La Guardia or Newark to Mid Town Manhattan. Figure about 45 minutes from JFK Airport. Although it will still take about another 45 minutes for the train, you can spend the time more productively and obviously it is a lot less stressful. The taxi ride from Queens, through the tunnel to Mid Town, can be stressful enough.
We begin our journey at Boston's South Station with its massive waiting area that resembles more of a shopping mall with its scattered bistros and coffee bars. We will be leaving at 9:05AM on train 99, a Northeast Direct southbound to Newport News, Virginia. The train is powered by an F40PH with a string on Amfleet II cars behind it. Anxious to find out what Amtrak considers "Business Class", we splurge with a few extra bucks and check it out. Business class comes with more legroom, about the same as coach on their long distance trains. We also get a complementary morning paper and free non-alcoholic beverages in the café car. Also a standard A/C power outlet is adjacent to your seat. Why the airlines can't come up with this, I will never know!
We leave South Station right on time and curve past Boston's infamous Big Dig project. Five minutes later we stop at the Back Bay station to pick up more passengers and then pick up more at Route 128, ten minutes later. From here we start to pick up speed as head out into the countryside. Although it is March, remnants of fall foliage can still be seen, intermixed with pine trees over a carpet of snow and an occasional half frozen swamp, created by the recent rains. Thirty minutes later we reach Providence, Rhode Island a city that maintains its colonial heritage within its modern Buildings. From Providence we edge closer to the coastline and dart past numerous bays and other inlets with summer cottages strewn about. We make stops at Kingston, Westerly and then on into Connecticut. Once into Connecticut, we roll along coastline similar to that of Rhode Island, with stops at Mystic, New London and Old Saybrook.
Next we reach New Haven and sit for twenty minutes while they change crews and relieve the diesel powered F40PH and replace it with an electric powered AEM7 locomotive. At New Haven, we see signs that we are nearing the Big Apple as rows of Metro North coaches await their next run to the city. Now powered by the overhead catenaries, we begin the final leg of our journey to New York City. Along the way we pass several stations of the parallel Metro North line. We first stop at the upscale suburbs of Bridgeport and Stamford and then cross the state line into New York. The city now has taken a complete hold on the landscape as we stop in New Rochelle. As we get nearer to the city, we pass row upon row of tenement houses with an occasional glimpse of the red trains of the Metropolitan Transit Authority (MTA). As we leave Brooklyn, we complete our ride underground as we traverse the East River and slip into the bowels of Manhattan where the passenger platforms of Penn Station await us.
Even on a Saturday afternoon, we see a lot of activity as Metro North, Long Island Railroad and New Jersey Transit trains join us as they complete their inbound journey. We gaze upon row upon row of underground platforms as trains emerge and disappear into the darkness of the tunnels at each end.
The ride back to Boston will be on one the Acela regional trains. Although the train had Acela in its name, we were quick to find out that it does not mean one of the new high-speed train sets. Instead we discover that it is another string of Amfleet II cars powered by yet another AEM7 locomotive. The journey back to New Haven is very much the same as our ride in to New York City. Once we arrive back in New Haven, we start to notice the differences. First, our stop only lasts about five minutes as they keep the AEM7 at the head of the train. From New Haven, we notice that our speed seems a little faster. An inquiry is made to the conductor to see how fast this train will go. His reply was 125 MPH, a pleasant surprise for the conventional equipment that we are riding.
Amtrak's Amfleet II coaches have the quiet and relaxing look and feel that most of their modern equipment posses. However, as we race along at speeds of up to 125 MPH, the cars still remind us of the train rides we are used to as we feel the occasional jostle and constant vibration from the rails below. Most of the line is now welded rail with concrete ties, which help make these high speeds possible. But even at these speeds, the ride is quiet except for momentary interruptions as passengers pass from one car to another through the vestibule.
Our journey comes to an end as we return to South Station in Boston. Amtrak has come a long way in making the northeast corridor fast and efficient. However, these trains still have a long way to go in order to equal some of their cousins in Western Europe. But as a frequent flyer, I do find the trains of the northeast corridor an effective and much more relaxing alternative to the plane. This is especially true if I am not pressed for time.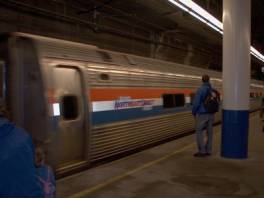 Passengers, bound for Boston, stand on the northbound platform of Providence, RI station, waiting for Train 160 (An Acela Regional) to roll to a stop.