Great Train Expo Nov 6, 7, & 8
Club members will meet at the storage unit around 12 noon on Friday November 6 to load the MTL. We will then head for the Monument Park & Ride. We'll go get a bite to eat and then go back to the park & ride to carpool up to Denver. We'll setup and then head home.
Show times for both Saturday & Sunday are 10 am to 4 pm. It is recommended that club members get there around 9 am to clean track and do any minor repairs and setup and start running.
For those wishing to carpool up each day, meet at the Monument Park & Ride by 8 am.
Tuesday & Friday Work Sessions
Club members utilized the Tuesday and Friday work sessions to replace the Jones plugs with the new Anderson Power Poles. The new installation really cleaned up the wiring on each end. We get to test it all out at the GTE show to see if we did it correctly. We will use the work sessions to perform any repairs to the MTL in the future. The Green line track work has been completed and now needs the wiring done. Then we'll start the scenery process to hide all the wiring. As time permits and people are interested Mike will give how to clinics on scenery and trees and whatever else people want.
Nominations
It's that time of year again when all the officers are up for reelection. If you are willing to hold an office and help out the club let a board member know so you can be nominated. Offices that will need nominations for are for Superintendant, Assistant Superintendant, Station Master, paymaster, Members at large 2 or 3 positions.
20th Anniversary Party
Can you believe it! The club is twenty years old. We have gone from free spaces to storage to rental places and back to storage back to rental and so on and so on. We have growth and decline, good times and lean times but we are still here and going strong. And yes we are always looking for new members.
We celebrated our 20th anniversary at the Dueker's new home in Black Forest. The party was also a home warming party as well. There was more food than what we could eat and there were two anniversary cakes, see photos. As usual everyone was in the kitchen area where the food was and we snacked and talked about trains and the weather. The weather was the only thing that bad thing for the day. We had a snow and ice storm on that day. Getting to the party was no problem but getting home was. The icy roads were in town and everyone made it home safely.
| | |
| --- | --- |
| | |
| Anniversary Cake #1 | Anniversary cake #2 |
Pueblo Railroad & Air Museum Trip
Two members and one guest made the trip to Pueblo. At the railroad museum Lester had purchased his ticket to ride in the locomotive and was watching them bring the loco onto main track for operations. The loco picked a switch point and was put on the ground (derailed). Lester ran back and got his money back. Some of the experimental trains have been moved from the test center to the railroad museum (see photos). Those that went said they had a good trip.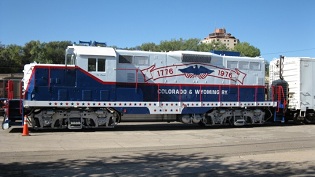 | | |
| --- | --- |
| | |
| Loco just before it went to ground | Experimental MAG lift train from Test Center |
| | |
| Experimental cushion air train | Cushion air train with Bob and guest |
Youth in Model Railroading
The Youth in Model Railroading group can use some help with "N" scale. At this time they meet once a month on a Saturday morning and work for about 4 hours. I will try and get a schedule for anyone interested in helping them out. This will probably involve track laying and wiring to begin with. If you are interested in doing this let Mike Peck know.